Cardiff Local Vocals
Where: St Alban's Church Hall, Swinton Street, Splott. CF24 2NX.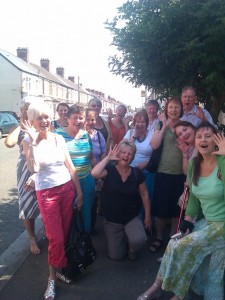 When: Monday 10:00-12:00
Leader: Celia Webb
Every Monday morning, a diverse bunch of songsters gather in Splott, East Cardiff, to sing together just for the sheer fun of it (there's some coffee drinking and cake eating every week too!).  This group continues to grow and change, and still has some of its original members. No need to be a 'singer' or read music, we all learn by ear. Many people in this group have experienced a great boost in confidence and well-being. It's great fun – a wonderfully inclusive, warm and welcoming bunch of people. Come and join in!
We sing all sorts of wonderful songs and chants,  in English, Welsh, Russian, Bulgarian, Georgian, various African languages, Finnish, French, Swedish, Romany, Pygmy and Czech…..  but always in Harmony.  We sing some good old favourites too. Our informal (and optional) public appearances include Care Homes, Asylum-Seekers refuge and farmers Markets! New members always welcome for a free taster.
Call or email  for further information –
Home: 02920 251866 / mob: 07904337301
E-mail: celia.webb@naturalvoice.net
Here are some recordings from our sessions. They are intended as reminders of how the songs go and mementos from our glory years (!) rather than finished performances.